Rise and shine with Deako
Looking for ways to brighten up your home during chilly mornings in the Fall? Want to come home to an illuminated driveway or front porch? Well with the Deako Sunrise Sunset feature these are possible!
What is Sunrise/Sunset?
With the power of Deako Smart Lighting Sunrise/Sunset is a setting that allows your Smart Switch or Dimmer to turn on or off automatically when the sun rises/sets so you can get a jump on the day or wind down with the sun!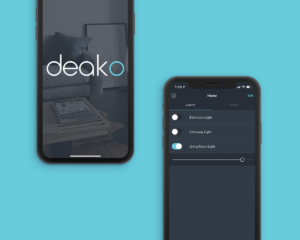 It works based on your location and you're able to set a specific window of time you'd want your smart switch to turn your lights on or off, for example if the sun sets at 5:09 PM on Wednesday you can set your Deako app to turn your smart switch on before, after or exactly when sunrise or sunset happens based on your area.
What's needed?
Making sure you have a Deako app version 1.24 or higher. To see what version of the app you're running, tap the gear-shaped icon on the top left of the main screen. You can update the app by searching for Deako in the App Store/Google Play Store and tapping Update.
Smart Switches and Smart Dimmers need to be on firmware version 3.12 and above to access this feature. Here's how to check the firmware version of your Smart Switch/Dimmer. If your device isn't on that firmware, power cycle the device and wait for a few minutes for it to update
You must be connected to Wifi in order for the feature to work and remain up to date with the local weather patterns and forecast for the switches to know when to activate.
If you've gone through the list and all 3 are checked off then you're good to go and you should be able to access this feature in your Deako app right now!

If you want a walk-through to get started you can view the support article created for Sunrise/Sunset or checkout out Youtube video giving a breakdown of of what you'll need to do!