Get Your Home's Lighting Off to a Great Start
Key Takeaways:
Make your home's lighting your next DIY project
Tips for optimizing your lighting
How to improve the functionality of your lighting
Where upgrading your lighting makes the most sense
Upgrading your lighting yourself is simple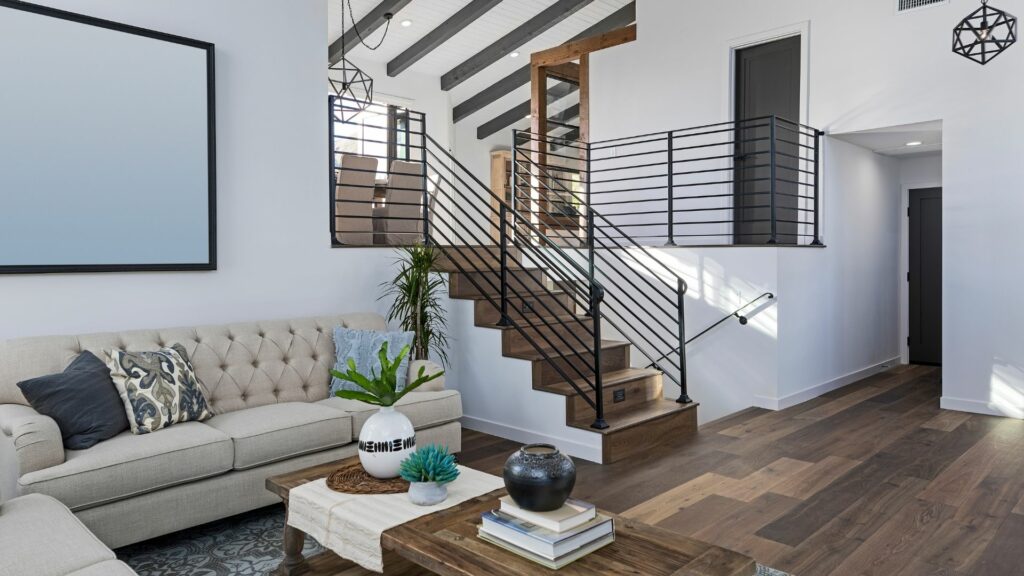 Choosing Better Lighting is Your Next Bright Idea
Nothing can transform a room quite like your lighting. It has the power to change the mood, create ambiance, and can help you define the layout of your home, drawing attention to the details you want to highlight. The possibilities for personalizing your lighting are endless, and luckily there are plenty of tweaks and adjustments you can make that are simple, budget-friendly, and can be done all by yourself! Don't settle for average lighting when you can have amazing results with this, easy-to-follow, DIY guide.
How to Optimize Your Lighting
Improving the lighting in your new home shouldn't be expensive. With so many lighting options for every budget, there is no need to spend money on a designer lamp, or pricey lighting fixture, to make your interior feel more stylish. Let's start off with a few simple ways you can get the most out of your home's lighting (and most of them won't cost you a dime).
Clean Your Windows
Take advantage of the natural light in your home by keeping your windows clean. While this may seem like a simple fix, dust and grime can block out light that may otherwise give your home that fresh sunlight you've been missing out on. This is a great place to start your DIY lighting overhaul.
Add Mirrors
Mirrors can be magical, especially when they are used to create the illusion that your space has twice the amount of lighting. All you have to do is place mirrors in front of the sources of light you want to duplicate. You can even place a large mirror opposite a window, and enjoy twice as much natural light. We recommend not bolting the mirrors to the wall until you've left them there for a few days and are happy with the results.
Layer Your Lighting
There are three main types of lighting: ambient lighting, task lighting, and accent lighting. Each has its own purpose, and all can be used to illuminate your space through layering. Ambient lighting should include your overhead lighting, and any extra lighting you add to make your room glow. Task lighting on the other hand includes lighting that helps assist you as you perform certain tasks. Accent lighting helps you draw attention to certain parts of a room, or your favorite art piece.
Each has a different function, and it's important to keep each type of lighting in mind when you're working on your DIY lighting project. An example of layering your lighting is having overhead lighting on a dimmed setting, cabinet lighting above your kitchen counter, and some lit candles in your kitchen. With layered lighting, you can make your home more flexible for all times of the day, whether the sun is beaming through your windows or it's pitch black outside.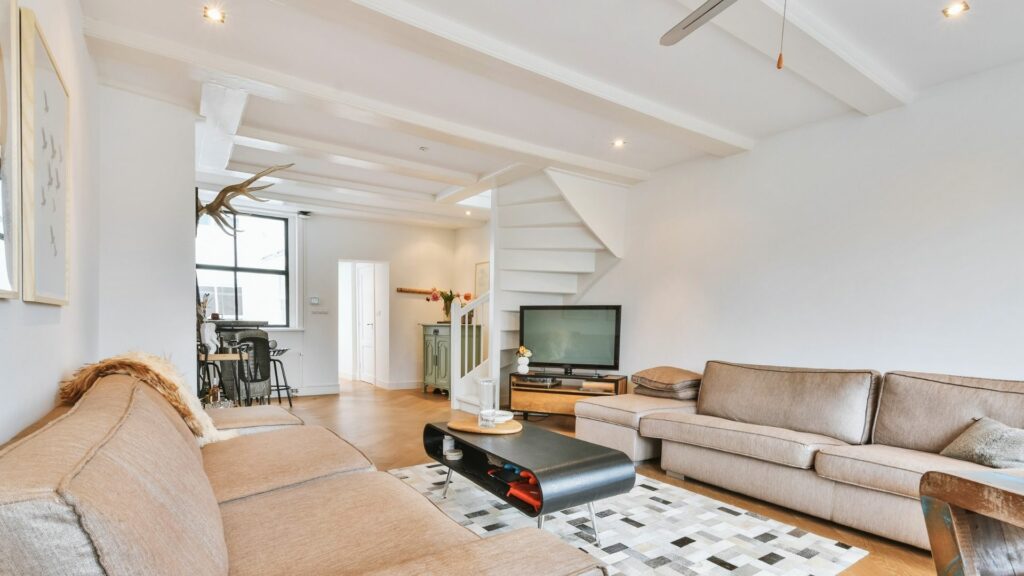 Improve The Functionality of Your Lighting
Install a Dimmer and Enjoy the Entire Spectrum of Brightness
Sticking with the binary function of a simple on/off switch limits what you can achieve when improving the lighting of your space. Create the right mood in a room by having the ability to dim your lights.
Set-Up A Motion Sensor Once, And Never Think Twice About Your Lights
Add more functionality to your lighting system by adding a motions sensor. It's a fix that can make your home feel more luxurious. Imagine walking into your pantry and having your lights turn on instantly, or walking into your laundry room with a basket full of dirty clothes and not having to set it down to turn on the light. That's modern living!
Use the Right Bulbs
Many lighting experts suggest that you only use one type of lightbulb in your space to improve a room's brightness, but many prefer two or three different bulbs with unique hues to add more dimension to a room. With that said, if you want a space that has a cleaner vibe, we recommend that you don't mix and match and stick to using the same bulb in each of your light sockets.
---
---
Where Upgrading Your Lighting Makes Sense
Using your lights strategically is a great way to spiff up your space, and it will allow you to get more use out of your lighting. There are two parts to this: the rooms where updating your lights has the biggest impact, and where in each of these rooms you can place your lighting.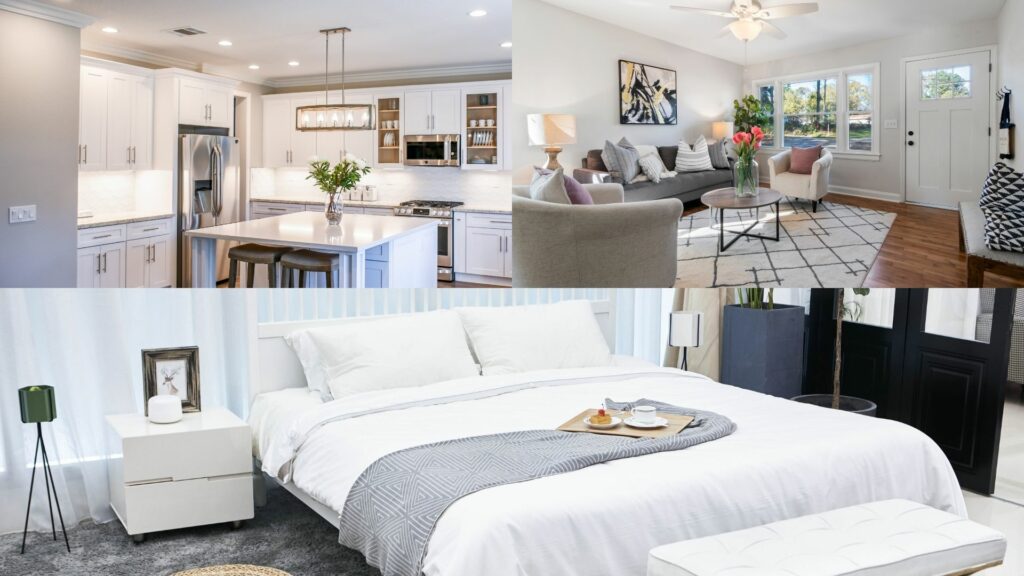 Rooms to Focus On
The Kitchen
The kitchen is one of the first rooms homeowners want to update. Not only is lighting an essential part of making your kitchen more functional while you practice cooking new cuisines, but it's a spot where people naturally come together. Remember that adding a dimmer can add flexibility to your kitchen lighting, but don't forget your pantry. Add a motion sensor to your pantry, or any spot in your kitchen where you don't want to be reaching for the light switch when your hands are full holding a freshly baked apple pie.
The Living Room
Updating your lighting in the living room will make your home cozier, and can be the most rewarding. Adding features such as a dimmer switch can bring your living room to life. Imagine watching a movie with lights that simulate the vibe of a cinema. You can achieve this with ease by adding a dimmer. Don't forget the popcorn!
The Bedroom
Make sure you treat yourself to a more personal DIY update. Adding a dimmer switch to your bedroom can add ambiance and the feeling of luxury in your space. And if there is any space in your home you should feel luxurious, it's the bedroom. There is also a practical element to the dimmer, it can make winding down much easier, if one person wants to stay up late with their mystery novel, and the other is just ready to get-in-some zzz's.
Spaces to Focus On
Uplight the Right Spaces
If you want a more luxury look for your kitchen or living room, consider uplighting parts of your space. Uplighting is when you have a light that shines upward. It can be used to highlight a particular feature or just provide a soft glow when you're spending time in your space.
Accentuate Your Favorite Spaces
Use accent lighting to bring attention to your favorite spaces in a room. Adding too many lamps can make your room feel small and cluttered (not to mention all the cords), but choosing one, or even two accent lights that fit your style can be a stylish addition to a room. You can use pendant lights, lamps, or even an interesting light fixture.
Brighten Up the Dark Spaces
We all have that one space in a room that never seems to see the light of day. This is where one of the accent lights we mentioned above would work beautifully. Bringing some light to the dark corners of your room can make your space look larger. Adding a mirror, or a shiny decor piece can also make a big impact on lightening things up. Let your existing lights bounce around the room via the mirror's reflection.
---
So now you have our latest tips and tricks to help you make your next DIY lighting project a success! Make sure you have fun throughout the journey of improving your home. Upgrading your lighting should be a fun activity, and the end result will be even more rewarding. Let us know if you use any of these ideas for your own home. We know that there is so much to think about when you buy a new home, but don't forget to have fun adding the personal touches that are key to making your home feel like your own.
---